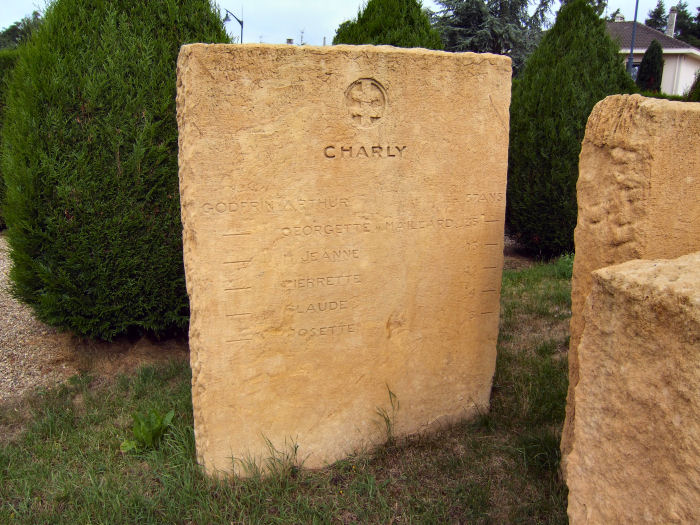 This memorial is located in Charly-Oradour, in Department 57, Moselle. As can be seen in this picture, the leading letters of the names of the Godfrin family have been defaced, a sad commentary on life in France in the year 2000 (the original photograph was taken in May 2000 and this updated shot in July 2009). More recently there has been an attack on the Centre de la Mémoire in Oradour itself, with spray paint used to disfigure the national Centre.
The names on the tablet are as follows: Godfrin, Arthur 37. Georgette (née Maillard) 35. Jeanne 13. Pierrette 11. Claude 4. Cosette 3. For a full list of names of all those from the Charly area see: list of names and also the separate memorial at Oradour-sur-Glane.
Roger Godfrin was the only member of the family and the only refugee from Lorraine to survive the 10th June 1944. He was born on 4th August 1936 and thus was 7¾ at the time of the massacre. Roger eventually died of natural causes on 11th February 2001.
This stone is one of a group of 12 arranged either side of the central memorial column to the dead of Charly-Oradour at the entrance to the village.
---
© Michael Williams: revised July 2009