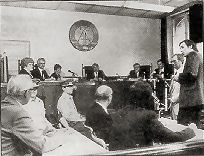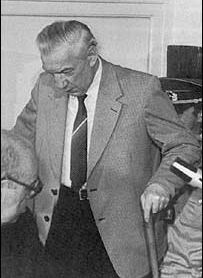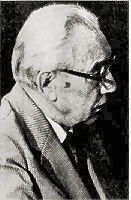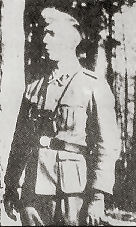 Note: I have been unable to find who holds the copyright for any of the above pictures.
The pictures above are regrettably of rather low quality, but are the best that I can find at the moment. Hopefully I will be able to locate better ones in the future. The top three photos are from Barth's 1983 trial in East Berlin and as this trial took place before German re-unification (in 1990) it does seem to have been a matter of political expediency, rather than an exercise in the judicial process.
1) In the top photo Barth is the man with the white hair sitting with his back to the camera on the left. The man in the light suit and dark glasses opposite him across the courtroom is Robert Hébras, one of the 5 survivors from the Laudy barn.
2) In the second from top, one can see that Barth walked with a stick as a result of losing a part of his (left?) leg in August 1944.
3) In the third view: an old man.
4) Lower picture: as an Untersturmführer, taken somewhere in Russia, probably during the summer of 1943.
---
Back to Picture Gallery (if you came to this page from there)
Back to appendicies (if you came to this page from there)
© Michael Williams revised August 2009